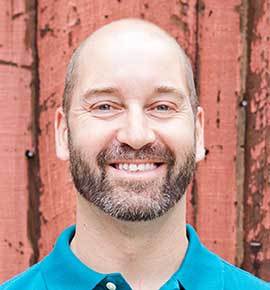 Andy Draycott
Associate Professor of Biblical and Theological Studies
Ph.D., University of Aberdeen
M.Litt., University of St Andrews
M.St., University of Oxford
M.A., University of Oxford
The reality of being known and loved by God in Christ in the power of the Holy Spirit, and being bound into creaturely fellowship sustained by the hope of eternal life, fuels Andy Draycott's delight in teaching theology under the authority of Scripture. He comes to Biola having taught Christian Ethics and Theology of Mission in Aberdeen, Scotland. His doctoral study saw him specialize in political theology oriented by mission. This reflects his upbringing in a missionary family in Brazil, as well as eight years of college campus ministry in the United Kingdom and Portugal. He is passionate about understanding church life and especially preaching as engaged publically for the glory of God and the mission of his Kingdom. Teaching undergraduates across the whole range of disciplines at Biola is a providentially appointed setting for theology that loves the diversity of callings, gifts and mutual ministry in the church. Draycott enjoys time with his family, laughing with friends, cycling and playing soccer, watching cricket and rugby, and reading for pleasure and learning.
Affiliations
Evangelical Theological Society
Kirby Laing Institute for Christian Ethics
Society for the Study of Christian Ethics
Tyndale Fellowship
Publications
Books
'Introduction' to, Oliver O'Donovan, "The Word in Small Boats" Grand Rapids, Eerdmans, (forthcoming).
"Preaching", Chapter in Andy Draycott & Jonathan Rowe, eds., Living Witness: Explorations in Missional Ethics (IVP, 2012)
Living Witness: Explorations in Missional Ethics, (co-edited with Jonathan Rowe; conclusion (IVP, 2012)
The Word in Small Boats, Oliver O'Donovan (Eerdmans, 2010) (edited and introduced)
Articles & Chapters
Review of Groody, Daniel G., and Gioacchino Campese (eds.),"A Promised Land, A Perilous Journey: Theological Perspectives on Migration" and Carroll R., M. Daniel, Christians at the Border: Immigration, the Church, and the Bible(Grand Rapids, MI: Baker Academic, 2008), in Studies in Christian Ethics, (forthcoming).
Review of Richard Harries, "The Re-enchantment of Morality: Wisdom for a Troubled World,"(London: SPCK, 2009) in Themelios, 34.1, April 2009.