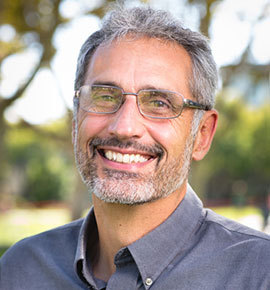 Richard C. Langer
Professor of Biblical and Theological Studies
Director, Office for the Integration of Faith and Learning
Ph.D., University of California, Riverside
M.Div., Talbot Theological Seminary
M.A., University of California, Riverside
B.S., Colorado State University
Rick is a Professor of Biblical Studies and Theology and the Director of the Office of Faith and Learning at Biola University. He specializes in the integration of faith and learning, and has also published in the areas of bioethics, theology and philosophy. He has a passion for helping Christians of all ages understand the connection between the Gospel and all the diverse facets of the created order in which we live. Prior to coming to Biola, he served for over twenty years as a pastor at Trinity Evangelical Free Church in Redlands, California.
Affiliations
Ordained Minister, Evangelical Free Church of America
Evangelical Theological Society
Publications
Winsome Persuasion: Christian Influence in a Post-Christian World, with Tim Muehlhoff, IVP Academic (forthcoming Spring 2017)
"Theological perspectives on trauma: Human flourishing after the fall" in Treating Trauma in Christian Counseling, edited by Heather Davediuk Gingrich and Fred C. Gingrich, IVP (2016)
"A Theology of the Body for a Pornographic Age," Journal of Spiritual Formation and Soul Care, Spring 2015, 8:1, 90-103.
"Toward a Biblical Theology of Leadership" in Organizational Leadership, IVP Academic, 2014.
"Points of Unease with the Spiritual Formation Movement," Journal of Spiritual Formation and Soul Care, Fall 2012, 5:2, 182-206.
"The Discourse of Faith and Learning," Journal of Education and Christian Belief, 16:2, Fall 2012, 159-177.
"Kingdom Integration: Reflections on Premillennialism and Cultural Engagement,"Criswell Theological Review, 10:1, Fall 2012, 21-40.
"Barnabas, Then and Now: Facilitating the inclusion of disabled persons in worship communities," Journal of the Christian Institute for Disabilities, Fall 2012, 43-60.
Lexham Bible Dictionary, articles on "Revelation" and "Suffering", 2012.
"Human Flourishing: The Context for Character Development in Christian Higher Education," with Hall, M. Elizabeth Lewis and McMartin, Jason, Christian Higher Education, (2010), 9: 4, 336 — 360
Presentations
July 2011, "Beyond Suffering", Uganda Christian University November 2010, "5 Points of Unease with the Spiritual Formation Movement" Evangelical Theological Society Annual Meeting
November 2008, "Integration of Faith and Learning from a Pre-millennial Perspective", Evangelical Theological Society Annual Meeting.
October 2008, Grace University Bible Conference, Omaha NE; plenary talks on "Jesus, Lord of All", a consideration of the implications of the Lordship of Christ for human life and culture.
November 2007, "John Cotton and Roger Williams: Letters from the Past and Lessons for the Present", Evangelical Theological Society Annual Meeting.
February 2007, "The Tree of Church History", Former Adventist Fellowship Conference.
April 2006: "The Perils and Prospects of Theological Integration in Christian Universities", Far West Regional Meeting, ETS.
March 2006: "Of Peretti, Potter and Puddleglum", Through the Wardrobe: Christianity and Culture Conference, California Baptist University.
October 2004; "Creation, Creature, or Commodity", plenary session, 48th Annual T. Hart Baker Obstetrics and Gynecology Symposium, (Southern California Kaiser Permanente).
November 2003: "A Biblical Basis for Bioethics", plenary session, Central American Medical Dental Association Annual Conference, San Pedro Sula, Honduras.
June 2002; "Philosophy of Religion" (4 day seminar), Port of Spain, Trinidad & Tobago.
May 1996; "Virtue and the Physician", Kaiser Permanente Hospital, Family Practice Conference, Fontana CA.